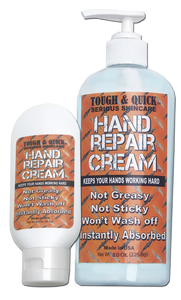 Tough & Quick Value Bundle
Regular price $36.57 $32.71 Sale
Value Bundle Our bundle includes a convenient 3.4 oz squeeze bottle, perfect for on-the-go use, as well as an 8 oz pump bottle for your countertop. With our deeply penetrating, non-greasy formula, you'll get superior relief from dry, cracked, and rough skin, and help damaged skin return to normal.
Washing your hands frequently is more important than ever, but it can also leave your skin feeling dry, cracked, and rough. That's why we've created the Tough & Quick Hand Repair Cream Value Bundle, with everything you need to keep your hands feeling soft and moisturized all day long.
Our hand repair cream is formulated with deeply hydrating emollients and micro-mono layer film (TM) protection, which means it won't wash off and will leave your skin feeling instantly better. It's not sticky and penetrates quickly, so you can apply it immediately after hand washing and feel the difference all day long.
Protect your skin and keep it looking its best with Tough & Quick Hand Repair Cream. It's the perfect solution for anyone dealing with dry, cracked, and rough skin caused by frequent hand washing. Try it today and feel the difference for yourself!
Instantly feel the difference.